MAKE IT SEW
Love to sew - except when your machine is acting up? Never know if you're dealing with a machine hobgoblin or operator error? Learn sewing machine troubleshooting, basic maintenance, and how to get the most from your sewing machine. Top and bottom tension issues, needle choices and stitch configuration will be among the issues addressed.
See supply list here!

Skill Level: All
Fee: $38
Instructor: Michele Hoaglund
Tuesday 6:00 – 9:00 January 21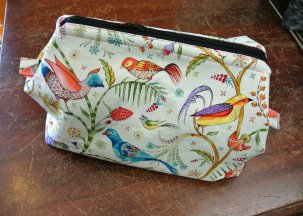 RETREAT BAG
This is a bag perfect for a number of different uses - lunch bag, makeup/toiletry bag, sewing bag, and more. It's easy to make and holds a lot! The bag has a frame that holds it open when you want and closes up easily. Make one for yourself or make several to give as gifts during the holidays.
See supply list here!
Skill Level: Advanced Beginner
Fee: $50
Instructor: Melissa Sternal
Friday 10:00 – 2:00 January 24
JALIE ELEONORE JEAN
A breeze to sew and wear, skinny jeans are a wardrobe staple. Make yours from stretch denim/twill or ponte knit and the Jalie Eleonore pattern. We'll work on fit – and without a zipper, the techniques are pretty easy!
See supply list here!

Skill Level: Intermediate
Fee: $55
Instructors: Material Girls Debbie & Kristin
Tuesdays 1:00 – 3:00 January 28, February 4
CONTINUING ON
APPAREL SEWING IN THE REAL WORLD
What do you want to sew? How do you decide if it will work? What challenge do you have? The pattern instructions read like Latin; you like this bodice, but that skirt; you just can't get that technique. Whether you are relatively new to sewing, coming back to it after time away, or an avid fan who wants to stretch your skills, this is the place. Learn tips, tricks, and techniques to improve your sewing skills so you can sew for the fun of it. Construct a garment of your choice, keeping in mind that you want to challenge yourself, but not cry. Class will include technique demonstration as well as individual sewing time; some sewing outside of class may be required depending on complexity of project chosen.
See supply list here!
Skill Level: Advanced Beginning and beyond
Fee: $170
Instructor:Elizabeth Merritt

Wednesdays 12:30 – 3:30 January 29, February 5, 12, 19, 26