Skip Navigation
Website Accessibility
Upcoming Classes & Clearance Continues!

Time for a new coat? When you live in Minnesota, your coat should be more than something to keep you warm. It is a wardrobe essential that can be fashionable and change with the season. Whether you want to move into winter in a toasty warm wool or be a step ahead for spring in a new trench, why not sew what you want? Learn what to look for in patterns and fabric, when and how to use underlining and interfacing, and which techniques work best for what you have chosen. Please bring pattern or fabric choices you are considering to the first class.

Skill Level: Intermediate

Fee: $175

Instructor: Michele Hoaglund

Friday 6:00 – 9:00 January 18, February 1, 15, March 1, 15, 29

Keep little (and big) hands busy! This is a fun, easy way to begin learning to hand sew, using soft, pliable wool felt. This class is appropriate for ages 6 to 8 if accompanied and helped by and adult and ages 9 to 12 to working independently.

Skill level: Beginner

Ages: 6 and up

Fee: $30 (adult/child pair) or $20 (single adult or child)

Instructor: Kristin Weller

Sunday 2:00 – 4:00 January 27

A quick-to-make skirt in a forgiving stretch knit is a wardrobe essential! Make one in class, make a whole closet full at home! A perfect introduction to sewing with knits.

Your sewing machine MUST have a zigzag stitch. A serger is optional, not required.

Skill level: Advanced Beginner

Fee: $40

Instructor: Elizabeth Merritt

Wednesday 6:00 – 9:30 January 30

Need a little extra help with your sewing, but not enough to take a full class? This 2-hour block of time is a flexible mini-workshop on the project or technique of your choice. You probably won't complete a whole project, but we'll help you through the tricky bits!

Skill Level: All

Fee: $25 each

Instructor: Michele Hoaglund, Melissa Sternal, Kristen Weller, or Elizabeth Merritt

Thursday 6:00 - 8:00 January 17 with Michele

Thursday 1:00 – 3:00 January 24 with Elizabeth
To sign up for a class, call us at (651)698-9690, or simply stop by the store!
Our Semi Annual Clearance continues!
Most items 50% off or MORE! Up to 75% off select groups!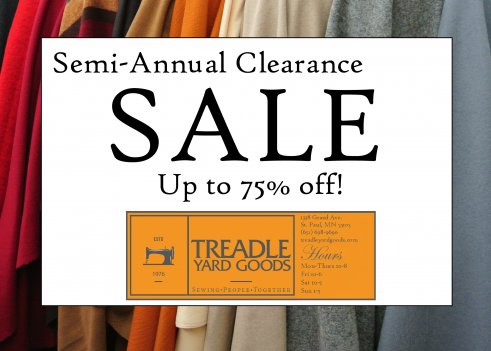 Simplicity Patterns Clearance!
Buy one, get one 75% off!
Last chance for Oliver + S patterns!
Clearance prices on our entire stock!