~ INSTRUCTORS ~


Mary Blouin Auffert teaches our youth classes. Mary learned how to sew from her mother at a very young age and hasn't stopped since. She studied costume design in college, worked in custom bridal design, and started her own women's and children's clothing business in 2007. Mary has taught sewing classes for both children and adults throughout the years. She enjoys sharing her love of textiles as well as helping them build the skills to create wonderful handmade items. Mary lives in St. Paul with her husband and her beloved Bernina sewing machine.



Michele Hoaglund, dressmaker and longtime Treadle employee, now turned owner, loves to create garments that fit fabulously and are beautiful both inside and out. She has been teaching for over 15 years and enjoys seeing students get excited about sewing.



Rebecca Karstad has been sewing since she was 9. With over 30 years of experience working as a costume technician in theater, film, and advertising, she still gets a thrill at taking a flat piece of fabric and turning it into something. She is proud to work for Minnesota Opera as a first hand and has been a core member of the Treadle team for years.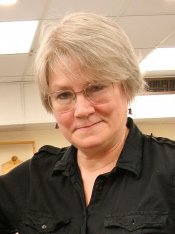 Laura Martell Kelly learned to sew from her mom as a young child. Her first rag doll still sits in the corner of her sewing room. Today, Laura enjoys the challenge of solving problems with fabric. Whether it is making or altering clothes to make them work for individuals or making curtains and pillows to update a room. She enjoys sharing the joy of sewing and teaching new sewers how to play with fabric.



Material Girls Debbie Petersen & Kristin Henak

Bringing YEARS of experience and lots of practice, these two like to teach together to keep classes fun. Debbie taught what some of us remember as "Home Ec." and Kristin got her start as a serger teacher. Working with fabric and color, passing on their passion for sewing and meeting new people of all ages keeps them dreaming up new classes and tweaking the old ones. Find more about them at materialgirlsewing.com
Elizabeth Merritt
has been sewing historic reproduction garments, modern clothing, and all kinds of quilts and crafts for over 25 years. She loves hand sewing in particular and tries to make time for sewing every day. She blogs about sewing and other crafty stuff; find her at
That's Sew Minnesota
or on I
nstagram
@thatssewmn


Marina Pollock learned how to sew from her Grandma and mother when she was young. She got back into sewing when she finished her undergrad degree and felt the need to make something concrete and develop a useful skill. She has spent the past sixteen years doing just that, sewing quilts and garments, mending & upcycling old clothing, and experimenting with as many different crafts as she can. Lately, she spends most of her non-sewing time working on her garden.